Key facts:
Each rarity in an NFT represents a different utility or advantage for the collector.

Owners will receive a greeting, a poster, a signed shirt or even training with CR7.
This article contains referral links. Know more.
Binance launches the second Cristiano Ronaldo NFT collection, this time of his most memorable goals. Who is the top scorer of all time, with more than 800 goals in total in several of the major European leagues, will launch a series of non-fungible tokens together with the exchange that are named: ForeverCR7: The GOAT.
The collection is scheduled to launch on July 3, 2023, and consists of about 29,000 NFTs of four possible rarities.
An interesting element of this collection is that each goal scored by CR7 (or 'El Bicho', as he is sometimes known) appears represented in the NFT with a notable and particular name: goal '712' is called 'the bullet header' or 'the bullet header' (the bullet header, in English); his first career goal, for his part, was called 'a star is born' ('a star is born'in English).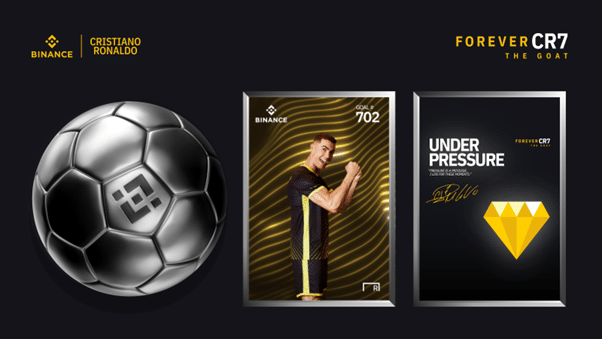 Additionally, the collection rules indicate that each NFT is accompanied by a different utility and is better the higher the rarity level of the collectible.
According to Binance, people who purchase a normal rarity NFT will receive a recorded thank you message from Cristiano Ronaldo. Owners of a 'Rare' and 'Super Rare' NFT will receive a poster and a player shirt, respectively. Both awards will be signed by CR7.
The jackpot, however, will go to the hands of those who obtain a super-super rare NFT, people who will have the opportunity to experience a training session with Cristiano Ronaldo.
For more information on ForeverCR7: The GOAT., its supply, rarities and sales dates, you can visit the official statement from Binance on the subject.
What does it mean GOAT?
GOAT is an acronym that means 'the greatest of all times', which in Spanish translates as 'the best of all time'. It is an informal term widely used in the journalistic world throughout different sports such as basketball, soccer or American football.
The colloquial term has become popular since, read as an acronym, that is, as a word whose joined letters do not represent a word by themselves, GOAT means 'goat' in English. For this reason, fans who want to pay tribute to a player do so by editing a photo of the athlete and inserting the image of a goat in it.