Key facts:
The user will be able to rent the mining power that he prefers.

The subscription to these products is limited in time, and whoever comes first is served first.
This article contains referral links. Know more.
Binance is launching a new batch of bitcoin (BTC) cloud mining products, called 'cloud mining'. According to the official statement, users can now use, by subscription, cloud mining products and buy hashrate (mining computing power) to accumulate profits.
According to the same announcement, subscribing to these mining products will be valid between June 8 and June 15, 2023. The subscription format is a 'first come, first served' type (first-come, first-served). In other words, the quantity of these products offered is limited, and whoever arrives before the others will have more possibilities of acquiring them.
At the time of writing, there are two cloud mining products offered by Binance, one of which is out of stock.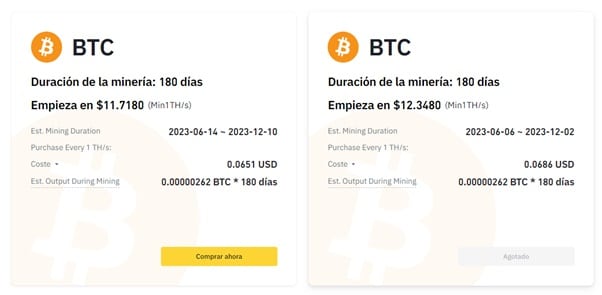 According to information presented on its page, the user interested in this product will be able to mine bitcoin, for 180 days, with a self-programmed mining plan and with adjustable mining power. The more computing power, the more bitcoin this plan will generate, but at the same time it will be more expensive.
According to Binance, the profits obtained from bitcoin (BTC) mining will be automatically allocated to the funds wallet (funding wallet) of the platform.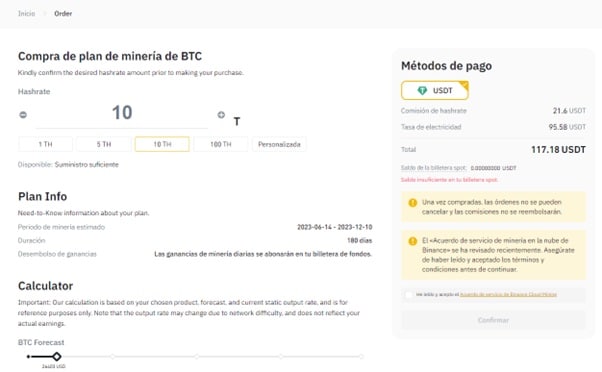 How does cloud mining work, or 'mining cloud' from Binance?
In its video tutorial, Binance promotes cloud mining of BTC from its platform as a direct alternative to mining with equipment and machines. hardware, which are more expensive and difficult to configure for the average user. This is true to the extent that renting mining power virtually, through an exchange, means less hassle than buying and installing physical equipment in physical spaces.
By subscribing to Binance cloud mining, the user is buying or renting computing power from Binance to use for their own benefit. Said computing power comes, most likely, from some Binance data center located somewhere in the world (the exact location is unknown) and which contains specialists and engineers at work. These data centers are, with high probability, well acclimatized to an environment of low temperatures, with cheap electricity and high speed internet.