The United States Federal Reserve (FED) announced on June 14 that it will maintain interest rates at their current level, located around 5.13%. This decision had repercussions on the bitcoin price, which experienced a significant drop.
Behind the advertisement From the Fed, the price of bitcoin (BTC) fell from USD 26,000 reaching USD 24,800, at its lowest point. A reduction of almost 5%. This decrease is attributed to the implications that high interest rates have on the money supply and investment capital.
The increase in interest rates by the Fed reduces the availability of capital for investment, as borrowing costs become higher. This discourages borrowing and limits the resources allocated to assets such as bitcoin (BTC), since investors could seek less volatile and riskier assets.
The cryptocurrency market, including bitcoin, is sensitive to changes in the money supply and the availability of investment capital. Less capital investment available may affect demand for bitcoin, putting downward pressure on its price.
In the past, CriptoNoticias has reported how the variation of the interest rates of the Fed has direct implications on the price of bitcoin. In March, after the upward adjustment in interest rates of 0.25%, placing itself above 4.5% interest, the bitcoin price responded with volatility, falling from USD 28,000 to USD 27,800, in question. of minutes.
The bitcoin price influenced by other factors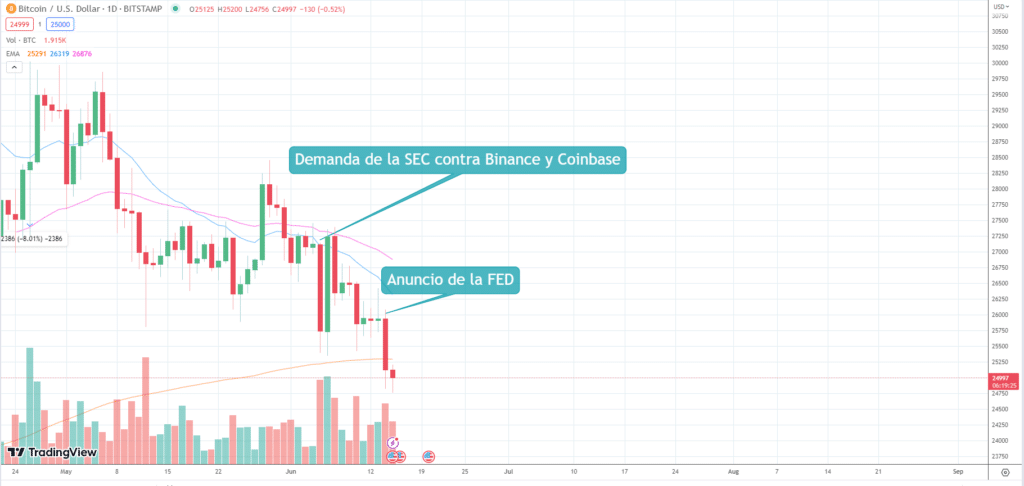 It is important to note that the price of Bitcoin is influenced by a number of factors, and FED interest rates being just one of them. Another factor that has been negatively affecting the price of bitcoin has been the actions of the United States Securities and Exchange Commission (SEC) against exchanges Binance and Coinbase, for allowing trading in unregistered security. This led to massive withdrawals from exchanges, for fear of reprisals and freezing of funds by the authorities.
Although bitcoin responded lower despite the fact that the FED maintained interest rates, the Federal Reserve has scheduled possible increases throughout the year situation that could end up affecting the price of bitcoin.
On interest rates, the trader identified as SantinoCripto commented that Jerome Powell, president of the Fed, maintained a speech "quite aggressive […] threatening two more increases". According to the trader, the reason for this attitude on the part of Powell is due to the fear of a rebound in inflation, which reported a decline for May of this year, as reported by CriptoNoticias. For SantinoCrypto, holding interest rates was "good news" for bitcoinwhose price did not respond and had a "loose performance."