The decentralized applications (Dapps) analysis platform DappRadar revealed in a recent report that Bitcoin NFT Ordinals have been experiencing a dramatic drop, both in the number of transactions and in sales volume.
Regarding the number of transactions related to this type of tokens, these fell from 832,648 in May of this year, to just over 20,000 so far in August. This implies a loss of 97%.
On the other hand, its sales volume fell from USD 452 million to USD 3 million in the same period of time. That is, 91% less money involved in this market, which was one of the busiest in 2023.
Although the month of August has not ended, it is unlikely that in less than two weeks these figures will take off enough to change the downward course of the statistics.
The collapse reflected in these data from dappradar It was not a sudden phenomenon in August, but rather it was progressive and was also reflected during June and July.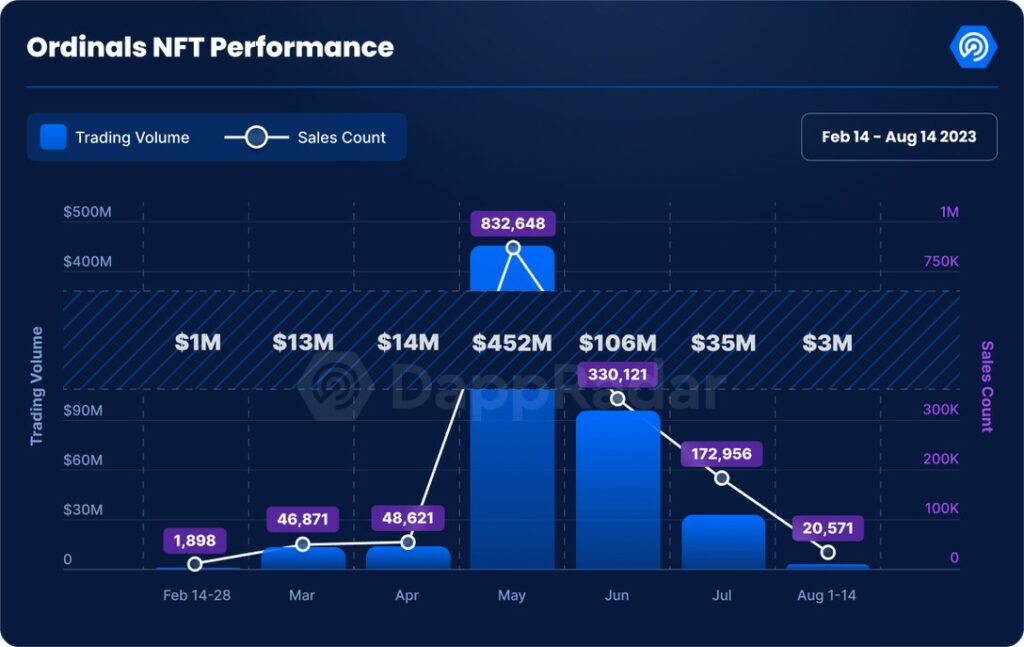 As seen in the graph above, the rise of Bitcoin NFT Ordinals in May of this year was colossal. CriptoNoticias reported at that time that the main catalyst was the arrival of the tokens BRC-20. These are fungible tokens that receive this name because they are compared to the ERC-20 standard from Ethereum.
The issuance of these tokens was such that the mempool of the Bitcoin network was collapsed and the transaction fees They went to the clouds. However, despite having represented a market of USD 120 million, the BRC-20s failed to maintain the interest of their community at those levels. This is reflected in the statistics for June, when NFT Ordinals transactions were down 60% and their sales volume was down 76%.
Bitcoin purists might have won the war
The rise of Bitcoin NFT Ordinals sparked a heated debate among the promoters of this new use for the network, against those who believe that Bitcoin it must be used solely as digital money.
The discussion reached the point where important figures in the bitcoiner community, such as developers Luke Dashjr and Adam Back (who collaborated with Satoshi Nakamoto in the early days of Bitcoin) came to qualify as an attack on the Ordinals protocol already promote censorship of these transactions.
The drop in operations related to these NFTs of Bitcoin could smack of victory for those who disagree with this use of the Bitcoin network. However, we will have to wait if these inventions applied to Bitcoin are abandoned or are taken up and perfected later, to recapture the attention of the community.