Glassnode indicates that we are in a transition cycle that takes approximately 221 days, despite this, it is estimated that it can barely be halfway through the cycle, before starting a new bull market.
According to analysis company, a transition cycle is complete when the current price exceeds the high reached in the previous bull market. That is, to conclude the current transition cycle, bitcoin must exceed USD 69,000.
Previous cycles have lasted between 459 and 770 days, so it is estimated that it is still too early to complete the transition.
Additionally, Glassnode assesses that the price of Bitcoin has been in a kind of lethargy, with occasional price spikes, such as the one recently occurred by institutional investment capitals that have approached bitcoin, as reported by CriptoNoticias. This event raised the price from USD 24,000 to USD 30,800, in just a week. Although they are usually not very occasional, so volatility has been reduced.
Halving and market transitions
Price cycle transitions are usually accompanied by halvings, which is the reduction of the reward per block mined in Bitcoin. With nearly 300 days to go before the next halving, and understanding the dynamics of past transitions, Glassnode points out that this may be contributing to the "apathy" of investors.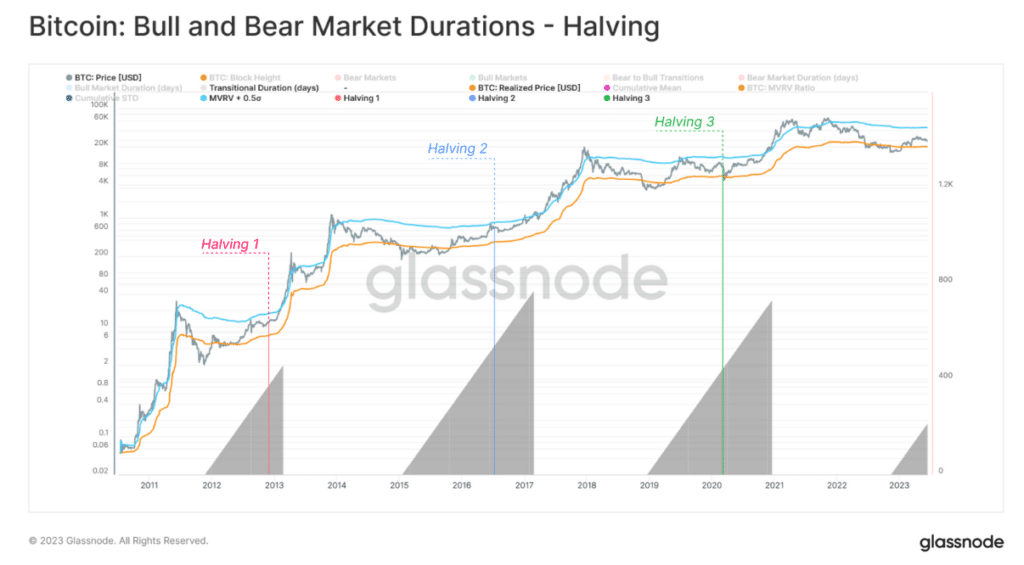 The analysis company detailed how more and more bitcoins are sent to private wallets, reaching all-time highs, and there are fewer and fewer bitcoins on the exchange. For this reason, it is pointed out that there are about 15.2 million BTC that are in the hands of private wallets, while only 2.5 million BTC are inside the exchanges.
Glassnode concludes in its study that, although volatility and liquidity are at a multi-month low, the important factor of the "wealth transfer" of BTC from exchanges to private addresses has been a constant in this cycle. This may have a considerable impact on the price of BTC in the next bull market..
However, Glassnode defines that, taking previous cycles as a reference, the "transition" period can last from 8 to 18 monthstaking previous cycles as a reference, and that the current price occupies less than 50% of its historical maximum, over USD 69,000 in 2021.