Key facts:
The bitcoin price rose 4.4% in the past week, from $26,800 to $28,000.

This rise breaks the downtrend it had been on since it fell below $29,000.
Bitcoin (BTC) experienced a price increase over the past four days to $28,000. In this way, the cryptocurrency closed its first week on the rise, after three consecutive weeks on the decline.
In the last week, bitcoin price increased 4.4% from USD 26,800 to USD 28,000according to data from TradingView. This behavior breaks with the downward trend that it had been doing.
The three weeks prior to this rise, bitcoin had a fall of 0.7%, 5.2% and 2.7% respectively. All of that was since the cryptocurrency kept depreciating from USD 29,000.
However, it should be noted that during the period when bitcoin was down in the last month, it made small rallies to as low as $28,000 without managing to stay above it. Therefore, it will be necessary to see if the market manages to push it above that number these days to register its second consecutive week on the rise.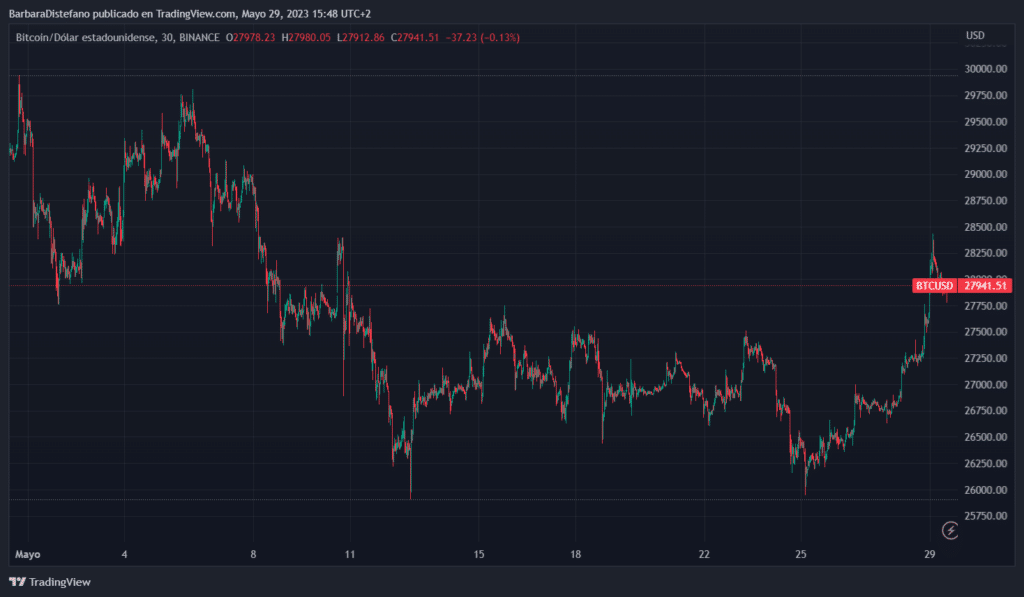 For now, Monday It started showing strength to be close to USD 28,000, but not above. At the time of publishing this article, bitcoin is trading at USD 27,900. According to analyzes reported by CriptoNoticias, it could be that, if it falls, it will stop near US 27,000, the area where it has formed support (its minimum) in the last month.