Key facts:
For Rodríguez, most altcoins are linked to scams or uncertain promises.

The communicator expresses his skepticism, even about the most popular of altcoins: Ethereum.
Following the recent complaint by the US Securities and Exchange Commission (SEC) against Binance and Coinbase, several altcoins (cryptocurrencies that are not bitcoin) saw their prices drop sharply. In some cases you are almost 50%.
The Colombian bitcoiner and communicator, Juan Rodríguez, expressed himself on this subject on Monday on his channel Youtube.
"I am going to tell you what is the importance of maximalists in the industry and why we do not want you to lose money," Rodríguez said, later adding that there is a narrative that everyone in the cryptocurrency ecosystem is for the same thing: looking for financial freedom. According to him, such a statement is false. "Most shitcoiners are just looking for how to sell you shitcoin," he says. He clarifies that with "shitcoin" (a derogatory term that translates as "shit coin") he refers to "altcoins that promise to develop something, but are generally linked to scams or ecosystems where they simply want your money."
The investor and youtuber is emphatic in showing that, according to him, bitcoin (BTC) and the other cryptocurrencies are completely different things:
«Bitcoiners and shitcoiners are not for the same thing. A disruption, a monetary development, a monetary improvement like the one offered by bitcoin is one thing, and expectations are another thing. [que promocionan las altcoins] We don't know if they are going to be real. Most of them just want your money."

Juan Rodríguez, bitcoin communicator.
Investing in altcoins is not a good idea
After saying that, Rodríguez proceeded to show that, not even at the level of investment or financial speculation is usually a good idea hold altcoins.
He referred, for this, to the recent fall that the entire market had after the lawsuits against the SEC and Coinbase. While BTC retraced a maximum of 7% or so, altcoins fell much more. In the case of Cardano (ADA), for example, it fell back 42% in this fall.
Rodríguez mentioned the historical chart of the price of this altcoin. At the moment, ADA is one tenth of the maximum price reached by ADA, in the area close to USD 3. The analyst says: "the problem is that many people are thinking that in the next cycle the price of this cryptocurrency will to go, perhaps, to USD 10. And that is not so. Be happy that it goes back to the dollar or very close to USD 2".
He also made an analysis of the price of DASH, a cryptocurrency that had its maximum historical price in 2017 and never exceeded it again. For Rodríguez, this altcoin "is an old dinosaur and it is not advisable to place money for speculation or for anything else." He says that it "tends to disappear."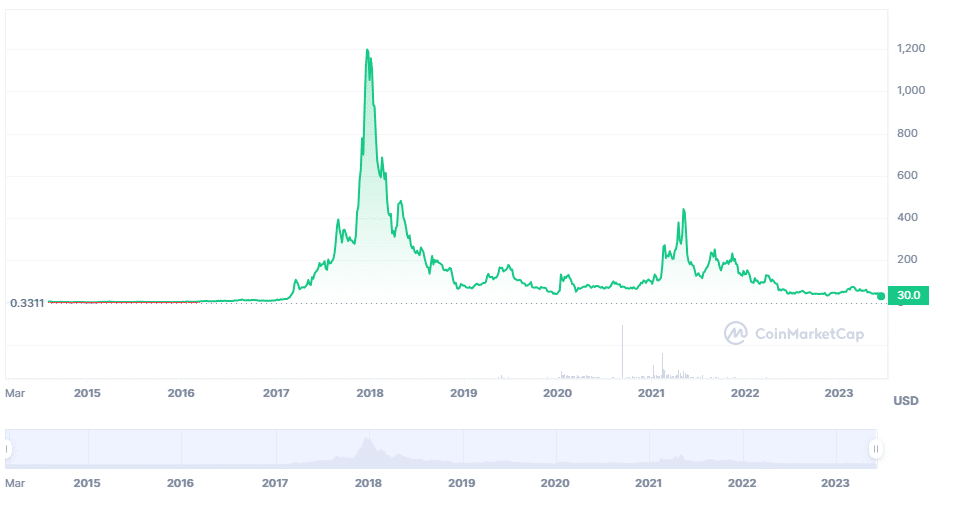 And what if its price is compared, not against the US dollar but against bitcoin? Well, the situation is worse for DASH. It can be seen that it reaches its historical maximum in 2017 and, from there, its price falls almost without pause over time.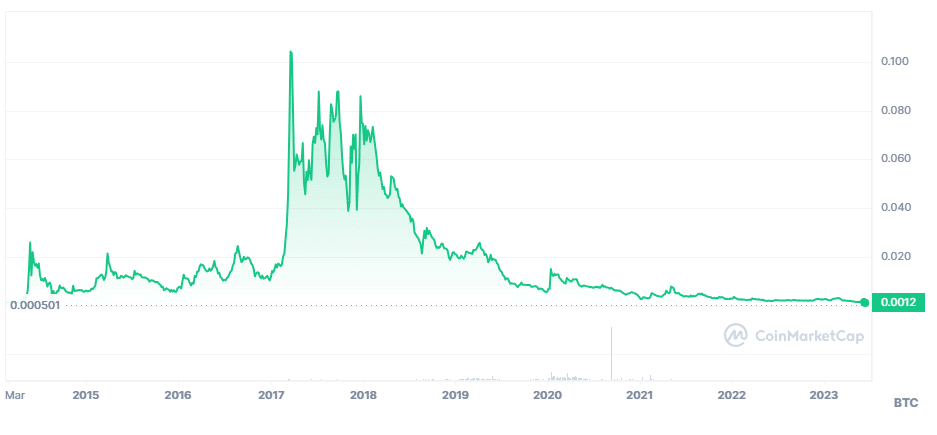 After mentioning that, Rodríguez sentenced:
"What the maximalists say is not a lie: all cryptocurrency, in the long term, tends to zero against bitcoin."

Juan Rodríguez, bitcoin communicator
"Most altcoins are linked to scams and deceit"
Why does this same price behavior happen with most altcoins? Rodríguez insists with the same argument. According to him, "the majority are promises, based on or linked to fraud and deception. Many of these coins have no service and their price lies in speculation and promises.
Immediately afterwards, the youtuber makes a defense of bitcoiner maximalism (idea that bitcoin is the only useful cryptocurrency that deserves to exist):
"You will have heard the maximalists many times and the shitcoiners blame them as obtuse. But, the reality of this is that maximalism (which for some was born in 2010 or 2011) was created precisely as a response to the large number of scams. And something more important to understand is that bitcoin has no competition. Everything else you find in the cryptocurrency industry is in another category or something else. Comparing tokens or 'crypto' with bitcoin is like comparing coke stocks or works of art, but they are very different things.

Juan Rodríguez, bitcoin communicator.
For lovers of altcoin speculation
While it is true that, in the long run, most altcoins depreciate against bitcoin, it is also true that, in the short term, their high volatility allows you to make profits with them. Although, it is worth clarifying, it is a risky bet.
For those who like this practice, Rodríguez says: "most of the capital you have in the ecosystem must be in bitcoin." The reason, he explains, is that it is bitcoin that currently has a use and it is not based on promises of the future linked to scams.
He claims to have 80% of his speculative capital in bitcoin, 10% in ether (ETH, Ethereum cryptocurrency) and the other 10% in other altcoins. In this way, he remains positioned mainly in what he considers the cryptocurrency par excellence.
And what about Ethereum?
Although ETH is the altcoin in which Rodríguez has the most capital, he does not declare himself a big fan nor can he be considered 'etherean'. He recommends: "Even when you decide to speculate on Ethereum, you have to know what you are putting your money into".
"Be very careful whenever you decide to speculate. Most [de las criptomonedas], apart from bitcoin, point to technological developments. It is not like bitcoin which is a more monetary oriented development. Ethereum is technological and, therefore, it is based a lot on promises, on future solutions linked to fraud, lies and deception. They are very different from bitcoin."

Juan Rodríguez, bitcoin communicator
He mentions that Ethereum co-creator Vitalik Buterin at a recent conference said that ethereum may fail. Buterin is not sure that Ethereum can still exist in 10 or 20 years. Instead, Rodríguez affirms convinced: "I can tell you that bitcoin will be there in 10, 20, 50 years or more."
Bitcoin utility
Bitcoin, as described in the Criptopedia (educational section of CriptoNoticias) has multiple characteristics that make it a beneficial tool for those who use it.
The Colombian youtuber mentions two of these characteristics: its non-confiscation and its usefulness as a store of value.
Regarding the first, one of the examples he provides is that of the bank accounts of Russian citizens frozen by the United States and its allies. With bitcoin, such a situation cannot happen. "Nobody can confiscate it if you have it stored in a wallet where you have control of the private keys," explains Rodríguez.
On the utility of BTC as a store of value, let's see the historical graph of its price measured in dollars: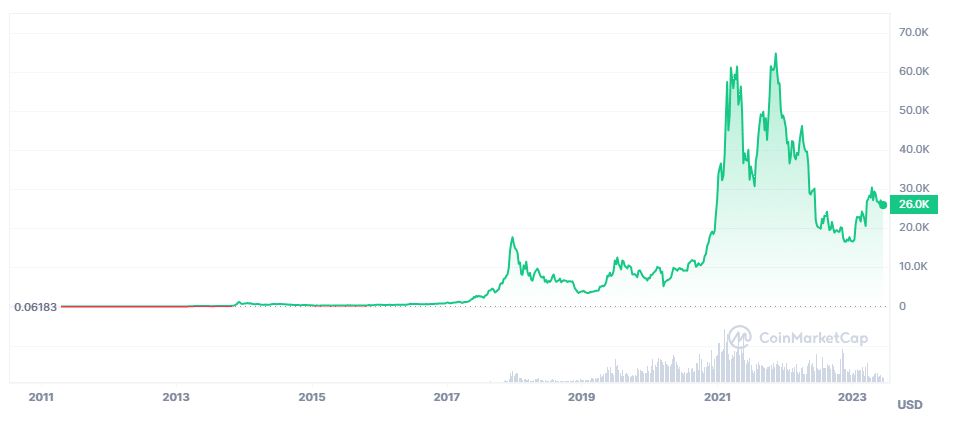 It becomes clear that in the long term it fulfills this purpose, although its volatility in shorter periods of time is high. And while past behavior does not guarantee future returns, there are reasons to believe that it will continue to do so.
In order to justify Bitcoin's bullish outlook in the medium and long term, it is necessary to consider several key factors that give this digital currency unique characteristics. One of the most important elements is the maximum limit of 21 million BTC that can exist. This cap, programmed into Bitcoin's source code, imposes a shortage in its supply and counteracts monetary inflation, a phenomenon that devalues ​​fiat currencies over time. This limitation on the number of bitcoins contributes to their appreciation over time, as long as the demand continues to increase or even simply remains.
In a world where inflation is a predominant issue in economies around the world, bitcoin is emerging as an anti-inflationary asset. Unlike fiat currencies, whose value can decline as central banks print more money, Bitcoin's monetary policy is predetermined and cannot be altered. Its protocol ensures that approximately every four years, the event known as a "halving" halves the reward for mining Bitcoin, effectively reducing the number of new bitcoins created and in circulation.
These characteristics make bitcoin similar to gold in terms of its store of value capacity and, in fact, many have called bitcoin the "digital gold". Like gold, bitcoin can serve as a safe haven during times of economic uncertainty or financial turmoil.