Key facts:
There is a profit opportunity by investing upwards in the area around USD 27,500, according to traders.

BTC should once again hold USD 27,500-27,600 as support to continue rising, they estimate.
The bitcoin (BTC) price opened Monday higher to $28,400, its highest in three weeks. And although it fell back slightly to $27,500 afterwards, several analysts say it could go higher.
With the bounce to $28,000, the analyst known as ORamosBets estimated that BTC can have "a good start to the week if the bags accompany". He explained that this is due to the agreement of the United States to raise the debt ceiling, which put an end to the uncertainty that the market had on this issue.
On the other hand, doing a technical analysis, the trader identified as Crypto Tony he pointed that see profit opportunity in the face of a potential setback. He indicated that he will invest upwards in USD 27,500 if the cryptocurrency does not fall below this figure. However, he clarified that he will do the opposite, he will invest downward, in case he loses that level.
Crypto Tony suggested that $27,500 is key for bitcoin as the (low) support it lost two weeks ago has been a zone. For this reason, he believes that it is essential that the cryptocurrency remains above that figure to continue rising.
Similarly, the analyst who calls himself Rekt Capital held that "a successful retest of $27,600 for support would likely allow a move to the $28,000 highs." He added that that would break the trend that has been making lower and lower highs.
On the other hand, the analyst Michaël van de Poppe Indian that "the sky is the limit" from $27,500 and, with the rebound at $28,000 after two weeks of lateralization below, "bitcoin looks very good". Therefore, he revealed that will look to invest in USD 27,300-27,500 and expect a rise to USD 30,000.
From a long-term analysis, van de Poppe emphasized that BTC remains above the 200-week exponential simple moving average. As the chart shows, the price of the cryptocurrency was approaching these lines after its recent plunge to the $27,000 zone, but managed to move away slightly with its rebound to $28,000.
Van de Poppe deepened that this indicator is "important" to identify the strength and weakness in the markets. Therefore, he maintains that its current rebound "indicates strength". He mentioned that another push would suggest the next pre-halving target at $38,000-42,000, key support-resistance (low-high) figures from the past.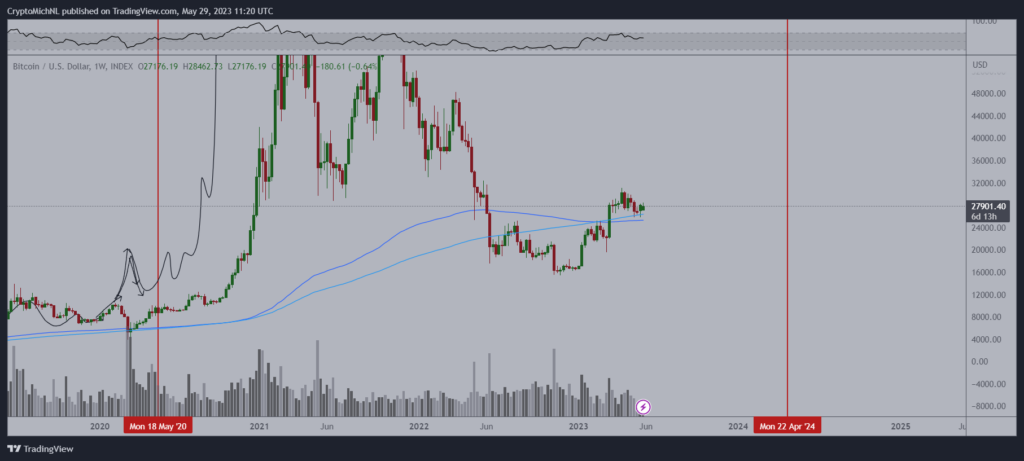 From another bullish look, investor Lark Davis commented that bitcoin's rebound to $28,000 allowed its price to cross the 50-day exponential moving average. The last time that happened, the cryptocurrency was up 40% in the following weeks, he noted. In any case, it should be borne in mind that a past event is not a guarantee that it will be repeated.
---
This CriptoNoticias article is published every Monday and compiles the bitcoin predictions reported by renowned traders and market analysts. Keep in mind that these projections are based on your opinion and may not come true, but they are usually useful to understand the expectations that there are about the next price movements.