Key facts:
At the time of writing, 4% of DAI is backed by USDC.

MakerDAO deposits USDC on Coinbase to earn interest and diversify custody.
During the last 7 days, the price of MAKER, the governance token of MakerDAO (organization issuing the stablecoin DAI), increased more than 15%. In that period it went from USD 620 to just over USD 715.
The driver of such a price increase was a vote in the DAO (decentralized autonomous organization) governance forum. It was decided limit the amount of USD Coin (USDC) that MakerDAO can have deposited on the Coinbase exchange. USDC is a stablecoin and is used as one of the collaterals supporting the price of DAI.
The vote to modify the custodial relationship between MakerDAO and Coinbase concluded with a decision of implement transfer thresholds for USDC cryptocurrency.
The new approved threshold system, proposed by the MakerDAO governance facilitators, sets specific limits for when USDC can be deposited or withdrawn from Coinbase. Under the terms of the proposal, a deposit of USDC to Coinbase Custody is only allowed if the total USDC content in MakerDAO's Peg Stability Module (PSM) and GUNI pools exceeds USDC 500 million. Furthermore, a withdrawal of USDC from Coinbase to MakerDAO is only allowed if the total USDC in the aforementioned pools is less than 300 million USDC.
Voting took place on the MakerDAO governance platform, and the proposal was supported by 91,222 MKR, MakerDAO's governance token, out of 36 supporters. Following approval on June 18, the proposal will be put into practice tomorrow, June 20.
The decision is particularly relevant if one takes into account that on June 6, the US Securities and Exchange Commission (SEC) sued Coinbase for allegedly allowing the trading of unregistered securities. In such a context, it may be a relief for DAI users to know that there is a limit to the amount of backing of that stablecoin that is on the exchange under court litigation.
What part of the DAI collateral is deposited on Coinbase?
The fact that part of the collateral of a stablecoin that is said to be decentralized is deposited in a centralized entity, such as Coinbase, is striking.
It was in October 2022 when MakerDAO community voted to approve proposal to deposit 1.6 billion USDC on Coinbase. In April 2023, an additional USDC 500 million was approved to be transferred.
The reasons for such transfers were: get interest for USDC deposits on Coinbase, diversify token holdings (since those USDC no longer depend on the custody of MakerDAO smart contracts) and increase liquidity. On Coinbase, MakerDAO can easily sell its USDC collateral if necessary.
According to the website DaiStats, 4.5% of the DAI collateral is held by USDC at the time of this publication. This represents a significant reduction from months ago when USDC represented more than 40% of DAI collateral.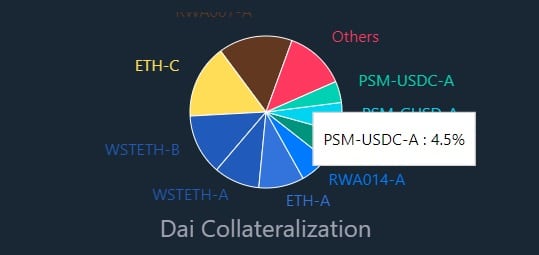 As reported by CriptoNoticias at the time, since 2019 DAI is a multi-collateralized stablecoin. Although, in the first instance, it was only backed by ether (ETH), later other assets began to be added. In addition to tokens, there are real-world assets (for example, real estate) that can be used as backing for DAI.