One of the oldest and most prestigious Bitcoin mining pools, F2Pool, has entered the non-fungible token (NFT) market of the Ordinals protocol. Yesterday, June 7, the first auction was held on its platform.
In the platform where the auctions take place, F2Pool describes that it will present "the first satoshi we own of the Bitcoin blocks in an auction". Notably this pool started its operations in 2013so it has been providing computing power to the Bitcoin network for a decade.
"Each satoshi will have its own unique rarity. Feel free to make offers for those that interest you", adds the message. Those who acquire these tokens can collect them, create a new NFT with them (using an NFT creation feature that F2Pool will launch soon), or transfer them.
The company reported on Twitter that registered users of F2Pool can sign up to participate in the auction. In the first, held on June 7, several users obtained satoshis identified with the Ordinals protocol. Between USD 400 and USD 500 were paid for these NFTs.
In addition, there is a second round of auctions open. For example, satoshis of several blocks mined by F2Pool are auctioned at the close of this note for values ​​close to USD 488. The auction closes on Friday, June 9 at noon (UTC).
Bitcoin miners interested in Ordinals
The rarity levels that F2Pool grants to NFTs are: common (any sat from a block other than the first); not common (first sat of each block); rare (first sat of the first block after each difficulty setting); epic (first sat after halving); legendary (first sat of each cycle, that is, conjunction between halving and difficulty adjustment that occurs every 24 years); and mythical (first sat of the genesis block).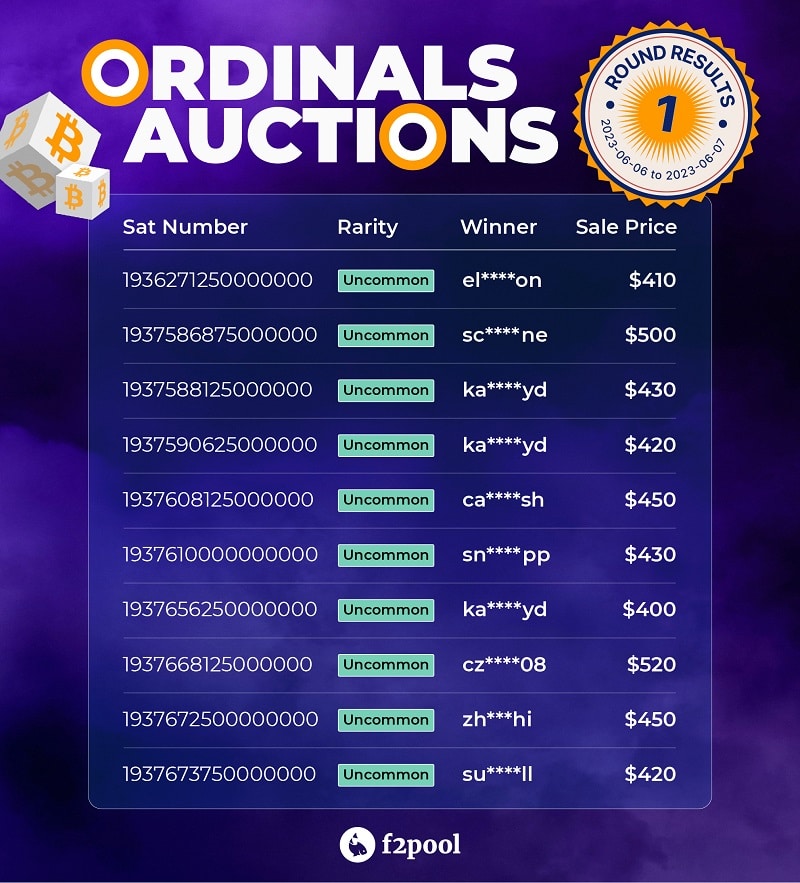 About this novel protocol for the creation of non-fungible tokens in Bitcoin, F2Pool explains:
"Ordinals is a protocol for numbering satoshis, which are the smallest unit of bitcoin. Each satoshi is assigned a unique sequential number based on when it was mined. Using the Ordinals protocol, individual sats can be tracked and transferred, and people can write information to them. These features make sats attractive to collect, and periodic events on the Bitcoin network create opportunities for a rarity system. The different levels of rarity are based on the block from which the satoshi was mined."

—F2Pool website.
This Bitcoin mining pool is not the first to be interested in the Ordinals protocol and its tokens. As reported in CriptoNoticias, the Luxor Mining pool invested money to acquire the OrdinalHub NFT market, which also provides statistics on these Bitcoin registrations. In addition, its CPO told this newspaper that the issuance of these NFTs in Bitcoin represents a new market and an opportunity that miners can take advantage of to continue providing computing power and security to the network.