Key facts:
The regulator claims that they are BNB, BUSD, SOL and 9 other cryptocurrencies.

Binance is accused of inflating the trading volume of crypto assets.
The lawsuit that the United States Securities and Exchange Commission (SEC) filed yesterday against Binance calls attention to the position that the agency takes on a new group of cryptocurrencies that it now lists as securities.
In a document The 136-page SEC makes its filing alleging that Binance and companies owned by Changpeng Zhao (CZ), "violated federal laws by illegally conduct offers and sales of unregistered securities to US investors.
In that sense, the SEC accuses Binance of trading with BNB, BUSD, Solana's SOL, Cardano's ADA, Polygon's MATIC, Filecoin's FIL, Cosmos' ATOM, Sandbox's SAND, Decentraland's MANA, Algorand's ALGO, Algo's AXS Axie Infinity and COTI tokens from Coti.
The consequences of trading these unregistered securities may include penalties that can affect both users, exchanges and other companies that trade them.
It means that any other exchanges that deal in these cryptocurrencies will be exposed to a lawsuit from the SEC, which could cause a domino effect in the industry.
The list includes stablecoins, such as BUSD; metaverse tokens like MANA and SAND; as well as cryptocurrencies from play to earn projects, such as AXS. And with this it becomes clear Difficult it is to know the selection criteria used by the SEC to list the assets that you consider securities.
For that reason, it is not clear why the agency delisted the hundreds of other crypto assets that are traded on the Binance platform. This, despite the fact that, in February, the president of the SEC said that anything that was not bitcoin (BTC) is considered a security, as CriptoNoticias reported at the time.
In any case, in its filing, the SEC decided to dedicate 53 pages of context to the 12 cryptocurrencies noted above, considered securities.
However, BUSD is also included in the Binance lawsuit filed in March by the US Commodity Futures Trading Commission. At the time, the CFTC pointed out that bitcoin (BTC), ether (ETH), litecoin (LTC), tether (USDT) and Binance USD (BUSD) are "commodities", something that both agencies fall into contradiction with.
Generally speaking, so far, they are 61 cryptocurrencies that could enter the category of values, if the cryptoactives that have been indicated as values ​​in the different lawsuits of the United States SEC are taken into account.
Binance and CZ are charged with multiple financial crimes
The SEC filing against Binance alleges that the exchange committed a series of financial crimes, with some 13 charges filed that can be summarized under three themes:
First, there are basic legal principles and unregistered values.
Second, cross trade.
In third order is the mix of company assets with those of users.
In the lawsuit filed in court this time, it was claimed that Binance, lUS corporation Binance, and Changpeng Zhao, violated the law from these three perspectives.
Binance Holdings, BAM Trading, BAM Management US Holdings, and Changpeng Zhao are first said to have violated securities laws.
Second, crypto assets like BNB and BUSD were issued without registration and 9 other unregistered cryptocurrencies, including Solana, were also traded on the trading platform without permission.
Third, the staking service provided by Binance was also considered an act of selling securities.
According to the Sec, Binance did not segregate client assets
In its lawsuit, the SEC accuses Binance of not separating the company's assets and the user funds it held in custody, which it used illegally for other purposes. This is a serious accusation that, if proven, would put Binance on a level with the FTX exchange.
On the other hand, Changpeng Zhao Accused of Inflating Cryptocurrency Trading Volume by mobilizing subsidiaries within and outside the United States.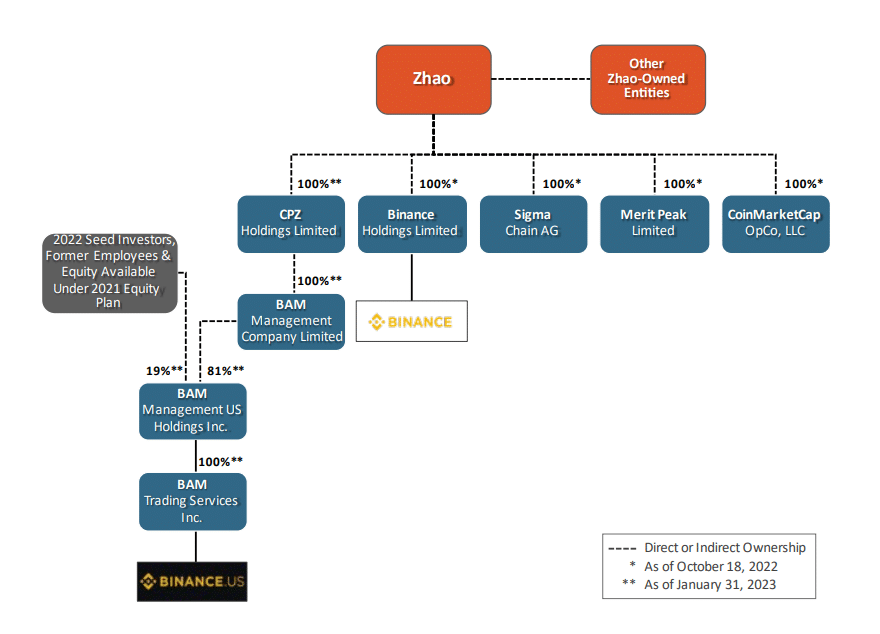 The SEC argued that BAM Trading, a subsidiary in the United States, and Sigma China, an overseas subsidiary, joined forces and that Changpeng Zhao actually transacted illegally despite knowing it was illegal.
The agency also raised a situation where client's assets were commingled with CZ's assets and that the funds were transferred to a third party and used for other purposes.
The SEC asked the court to take exceptionally strong preventive measures against the illegal activities of Binance and Changpeng Zhao.
Ask for Binance and Changpeng Zhao assets are frozen and an administrator who has a neutral position is appointed.
If the court accepts the SEC's request, Changpeng Zhao would lose control of Binance US and its US subsidiaries until the trial concludes. If Binance Global's assets are also frozen to recover damages from US investors, there is also a risk of losing control of the group.